Firefox 10th Anniversary Party Shanghai
http://mozilla.com.cn/event/115-firefox-anniversary-party-sh/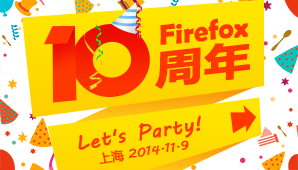 In 2004/11/9, Mozilla release Firefox 1.0. For all the users, contributers and developers, Firefox will reach its 10th birthday. We invite everyone to attend Firefox 10th anniversary party. To watch the past, see the future of Mozilla Firefox. And we will show the new features and also introduce our community.
Event:
Celebrate + Q&A + Workshop
Date:
2014/11/9(Sunday 13:30 – 17:30)
Place:
IPO Club
Address:No.88 Jingjia Road, YangPu District, Shanghai
http://j.map.baidu.com/nz6Xr
Schedule:
13:30-14:00 Checkin
14:00-14:20 Firefox 10 years look forward (Products) Speaker: Da Peng (Mozilla Online)
14:20-14:40 Firefox feature demo (asm.js, WebRTC, 3D games)
14:40-14:50 Beijing and Shanghai FaceTime using Firefox Hello
14:50-15:15 Involved to Mozilla China Community
15:15-15:30 l10n community
15:30-16:00 Firefox 10th birthday cake and Tea time
16:00-16:30 Webmaker or Appmaker translation on Transifex
16:30-17:00 Freetime
Attendees:
All Firefox users, contributors, developers. We hope more people involved in Mozilla community, and make a better web.
Organizer:
Sponsor:
1 attending, including...